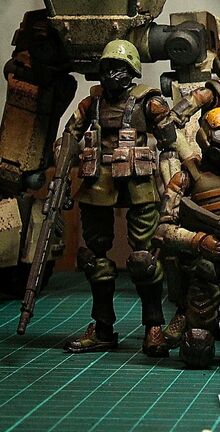 Zamaii General Soldier
Zamaii General Soldiers are assigned to protect the town of Zamaii's border from invasion and raids from bandits, Soil Ghosts and Omangans. Damien the main character in the Acid Rain World Story is a Zamaii General Soldier.
There have been no mention of a release for a Zamaii General Soldier. Early Acid Rain World photos show a soldier similar to an Agurts Infantry but in Marine style colouring, this may be an example of a Zamaii General Soldier. The photo depicts a soldier with a similar armour and helmet to Agurts Infantry but holding a Sol Commander's automatic rifle
These troops are also mentioned in the book "The First Rain" which was included in the ST-1 Stronghold Marine release.
There is also the possibility that Zamaii General Soldiers are actually Agurts Infantry and the figure photographed was a prototype.
JM