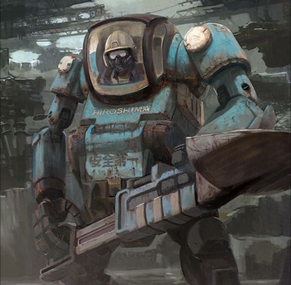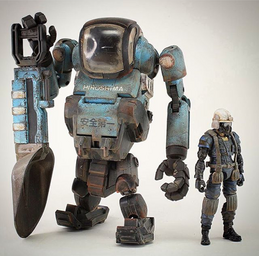 Uncle Kunio Hiroshima Laurel
The Uncle Kunio Laurel is limited to 400 and is known as a Big Bad Toy Store Exclusive. Pre-orders were unannounced to fans and a surprise option to pre-order appeared on BBTS mid January 2016.
The figure included is named Uncle Kunio and is a repaint of the Tim figure with a new sculpt construction style masked head. We can presume this is an individual character rather than a status.
It is currently unclear whether or how this set is involved in the Acid Rain World story given this vehicle would be based in Asia and the war is set in Europe. We know from Kit's notes that Laurels are sold by Agurts to other regions/countries so it is possible that the Hiroshima Laurel has been sent to aid the Agurts/Omangan war effort. The Laurel is a straight repaint of the Worker Laurel in blue with the addition of Oriental symbols on the front. Accessories include a large construction style shovel.
This set is expected to be released in April/May 2016.
JM