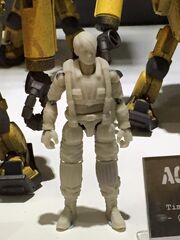 Tim
The Tim figure was first seen unpainted at SDCC 2015, he appears to be the first non military figure in the Acid Rain World product line. Displayed beside the Worker Laurel fans are assuming that Tim is the pilot for this civic machine. It is unknown what faction/country Tim originates from or lives in as Laurels are often sold internationally by Agurts for a series of purposes.
Tim wears no gas mask and is perhaps protected by the hazardous environment by the sealed cockpit of the Worker Laurel. Kitted out in mechanic-like attire, he carries no weapons and relies on protection from the safety provided by the interior of the machine. His duties may include vehicle repair/maintenance,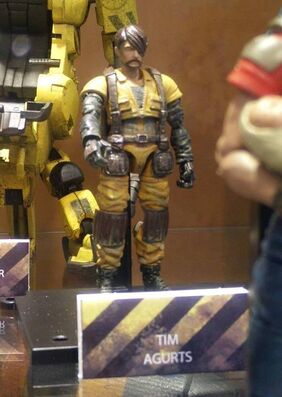 building and repairing areas desolated by the war, transporting heavy haulage and moving over difficult terrain/toxic areas.
As Tim is a named character it is likely that he will make an appearance in in the Acid Rain World story.
There are no hints as to the colour of the Tim figure, if he is the Worker Laurel pilot then he is expected for a release with this vehicle in 3rd Quarter 2015.
JM