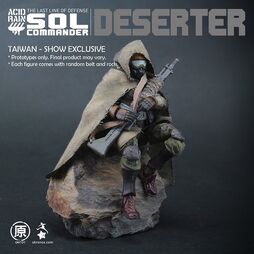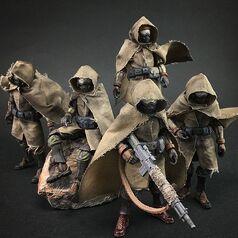 Sol Commander Deserter
"We are tired to be part of the unnecessary killings and do not want to continue like that, despite bearing the label as "Deserter"!"
Deserters are Sol Commanders who have went Absent Without Leave from their duties, fleeing to harsh environments for survival. They disagree with the continual slaughter and have become disillusioned with the decisions made by their superiors. These individuals have broken through the propaganda machine and see the war for what it really is.
They have customized their automatic rifles with slings and sport ragged dirty robe to help them stay warm, easing movement and aid blending in with their surroundings. Deserters often retreat to rocky areas for cover.
These Sol Commander Deserters have either abandoned or sold their vehicles on the black market. They may operate as freedom fighters in numbers or individually.
It is likely that the Agurts Government are very unhappy with these individuals and will introduce both bounties on their heads and harsh punishment to any Deserter captured. Deserters would find it very difficult to trust anyone they encounter and survival in general with no access to food, shelter or news would be a daily chore. In the quest for peace they have actually made more enemies.
The Sol Commander Deserter figure will be available in a Taiwan Toy Fair Feb 2015. The release includes a Sol Commander figure with hooded robe, customised wrapped rifle with strap, random belt, bloodied boots and a random rock.
Acid Rain World fan and Deserter owner Jeff Along stated that the cloth can be compared to canvas/sailcloh or polyester. For the gun the same material (5mm think strips) is wrapped around 7 times. The sling is 1mm thick by 3mm wide and maybe 7.5cm long (plus the 5mm foldovers on each end). The ring is around 4mm in diameter and maybe 0.5mm thick.