Omanga Cerberus Team Trooper (Abaddon Trooper)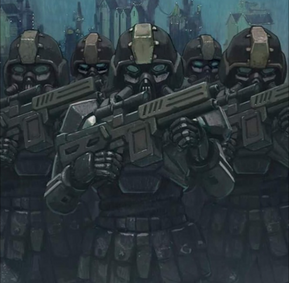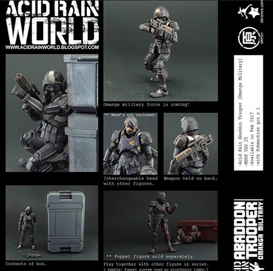 Omangans reside in a large "region/country" to the north of the known Acid Rain World. Soon after the end of WW II their government poured extensive resources into employing nuclear energy building 3 large power plants. Having a surplus meant that time and efforts were not concentrated on mining fossil fuels or developing an eco friendly power source and time could be spent making profit through energy distribution and strengthening military forces.
After the 1st generation nuclear disaster Omanga was a state in chaos, with land lost due to contamination the government took swift action and ordered an invasion into neighbouring Gafia and south into the prosperous Agurts.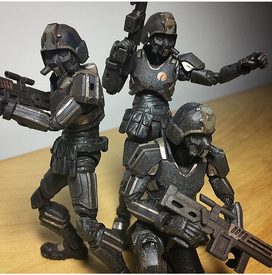 As their land can no longer sustain the population even the lowest rank of Omangan Cerberus Team Troopers do not fight for glory or pride, they fight for survival. This makes them committed and dangerous opponents, using desperation as a motivational tool rather than conscription employed by other regions. Omanga possess a strong military force in their Cerberus Team and have the option of using advanced chemical, flame and biological weaponry based on their nuclear reactor technology. Many Omangan regiments ignore the partial truce with Gafia and continue to terrorise the border towns linking their regions.
In the 4th quarter 2014, Acid Rain World creator Kit Lau mentioned that he had developed 20 new characters for the line and mentioned that one of these was an Omangan soldier. The first hint at the appearance of the Omangan Soldier was a sketch posted on Acid Rain World creator Kit Lau's Instagram on 06/06/15. An unpainted Omangan Cerberus Team Trooper figure was first seen at SDCC 2015

Update December 2016
In December 2016 it was revealed that the Omanga Troopers were to be re-christened Abaddon Troopers, it is currently unclear whether these characters are still part of Cerberus Team. The figures went up for pre-order in the same month with a Feb/Mar 2017 release.
JM
Community content is available under
CC-BY-SA
unless otherwise noted.