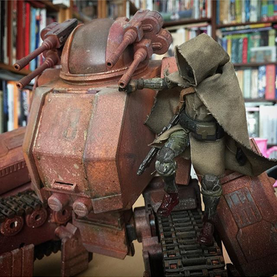 Old Friend
Old Friend is the name given to a junker ST-1 seen on Kit Lau's Instagram on 07/11/15. The picture shows a Sol Commander Deserter displaying affection towards the rusted vehicle suggesting that he was the pilot of this Quad Eyes before deserting the Agurts army.
A second photo with the same content has the tagline "It's time to wake up old friend" implying that this Deserter is attempting to resurrect his vehicle to operational status.
Below the rusted paint the number 88 can be seen suggesting that this Deserter and his ST-1 saw action patrolling the border of Zamaii and along the trade routes through the Soil Ghost Desert to Gafia
Kit has stated that Old Friend will not be an exclusive release but has spoken to Oritoy about putting this on the general release schedule.
JM