Militia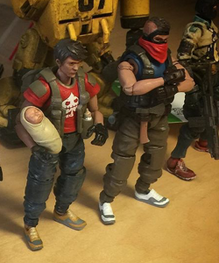 Two Militia figures were previewed in 4th Quarter of 2015. The first figure represents a Father carrying a small infant and is dressed in a "tactical pacificer" garb. He appears to pose little threat to any military units. The second figure represents a more threatening Biker style gang member, he is kitted out with baseball cap, dust mask and gang attire.
No cause has yet been revealed as to why these characters have became militarized but it's possible their motives are protection for their territory or families against the ongoing war. Allegiances for these characters also remains unknown.
Both Militant figures are new sculpt head and torso and share the civilian
legs from the Acid Rain World, their accessories are subject to change with a figure release date of late 2016/2017.