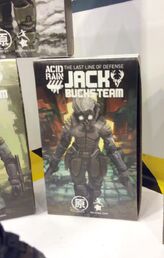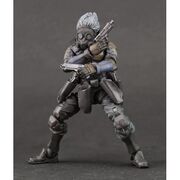 Jack (Bucks Team)
Jack is mentioned in the Acid Rain World story as the youngest and most brash of the Bucks Team members. He is described as having long grey hair and a high performance mask. Jack's behavior is excitable and inquisitive, appearing to question the enemy, Bob's leadership, his own purpose and the war itself.
"Well, I want to ask then, what are we fighting for?" Jack questioned
Jack's attitude causes conflict within Bucks Team (especially Steel) but he must also possess considerable courage and skill when called upon, he could be described as a gunslinger, armed with numerous close combat pistols and less head protection than the other Bucks.
A prototype of Jack was first photographed in the 3rd quarter 2014,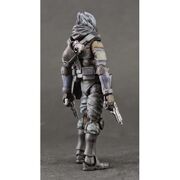 he is armed with 5 pistols in holsters, has a mass of grey hair and wears a gas mask over his face similar to a regular infantry soldier. His figure is expected to be released in May 2015.
JM