Agurts Diving Suit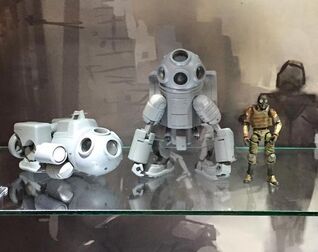 The Agurts Diving Suit unpainted prototype was first seen at SDCC 2015, the design is based on the Laurel core evolved into a submersive vessel with a single pilot. The hull of the Diving Suit appears very thick and is fully sealed suggesting this vehicle can operate underwater to considerable depth. There are no apparent weapons attached to this vehicle meaning it may be used solely for scouting, recon and discovery.
This is a transformable Mech, it can alter between a humanoid stance used for investigation and labouring purposes and a submarine style vehicle for fast movement and transportation.
The final colour scheme and pilot figure  for the Diving Suit is yet to be revealed. The release date for this product is to be 2016.
JM