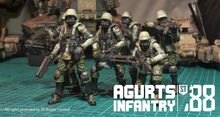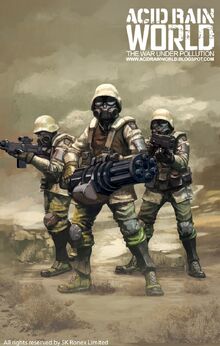 Agurts Infantry
The Agurts Infantry are portrayed in the Acid Rain World story through the 88th Sand Division who were set up to protect Agricultural Trade Routes from Agurts, through the anarchical desert of the Soil Ghosts to the nearby country of Gafia.
The 88th are highly trained, are equipped with high end weaponry including the heavy hand pistols, sub machine guns and anti-infantry chainguns. Their task protecting these routes are perilous and attacks from Soil Ghosts and Omangans are frequent. The 88th Agurts have a large number of casualties, the highest amongst Agurt's military units.
The 88Th are also mentioned in the Acid Rain World story when Damien is sent on a mysterious mission with his squad of 15 to merge with "Team 88" and carry out an attack on the military camp of the Soil Ghosts. Team 88 were not allowed to make any contact and provided no orders to Damien's squad which caused tension and led him to believe something was amiss.
Agurts Infantry represent the general issue foot soldier in the regions of Agurts and Zamaii. They are heavily involved in the invasion from both Omangans and Soil Ghosts and are responsible for keeping any marauding forces at bay. Although some divisions are well armed, the troops have limited armor, their true strength comes in the form of their large numbers placing trust in decisions made by their superiors.
"I am a soldier with no land and no property. When I see my teammate on the tank waving hands to me after my daily duty, I feel so glad that I can safely return "home", back to my seat inside the tank, my temporary shelter."
Although this has not been confirmed we can assume that Damien is part of a frontline Zamaii based division/regiment of Agurts and his duty is to fend off bandits. This is where he first met Bob who appeared to be a simple infantry soldier like himself, as time went on however Damien learned that Bob was in fact once a well respected chief of the famous Secret Service military unit named Buck's Team. If Damien is an example of a typical Agurts Infantry soldier then we can assume that like him others do not understand the war, have seen little outside their hometowns and are not experienced or knowledgeable about the Acid Rain World surrounding them.
The Agurts Infantry figure was released in May 2014, he came with a heavy handgun, sub machine gun and a chaingun. In the 4th quarter 2014 Acid Rain World creator Kit Lau hinted at a new type of Agurts soldier but has not provided any further details or a release date.